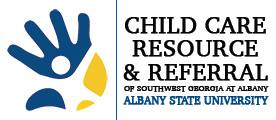 2429 Gillionville Rd. Albany, GA 31707
Main Office Line: (229) 500-2895 Fax: (229) 500-4895 Toll Free Line: (866) 833-3552
In the News

upcoming events
ATTENTION Family Child Care Learning Homes
Tom Copeland's Webinars in 2020 will occur the 1st Tuesday evenings of March, April, and May from
6:30 PM – 8:30PM.

Albany State University - West Campus
2400 Gillionville Rd.
Building J Room 129
Albany, GA 31707
Tuesday, March 3rd, 2020
"Record Keeping-Tax Preparation & What the New Tax Law Means for Family Child Care"
Tuesday, April 7th, 2020
"What a Budget Can Do For You!"
Tuesday, May 5th, 2020
"How to Raise Your Rates"

Registration link:
https://attendee.gotowebinar.com/register/7192199530365618179
This will be used for all 3 webinars. Presently providers can only register for the current training. After the 1st training the link will go live again for the second training and then the same for the final training.
Webinar must be viewed on a tablet or laptop. No cell phones may be used.
So, You Want To Open A Child Care Program?
Please note updated session date for South West GA
Register here:
https://gapds.decal.ga.gov/Training/Sessions/25643
2020 Family Child Care Learning Home Licensure Orientation Meeting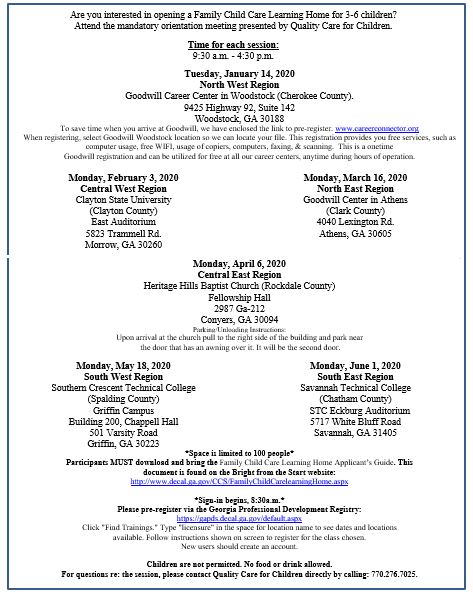 Participants MUST download and bring the Family Child Care Learning Home Applicant's Guide. This document is found on the Bright from the Start website: http://www.decal.ga.gov/CCS/FamilyChildCareLearningHome.aspx
Register here: https://gapds.decal.ga.gov/default.aspx
Click "Find Trainings," type "licensure" in the space for location name to see dates and locations available. Follow instructions shown on screen to register for the class chosen.
New users should create an account.