Peer Tutor of the Month
Nalucha Shakalima
October 2016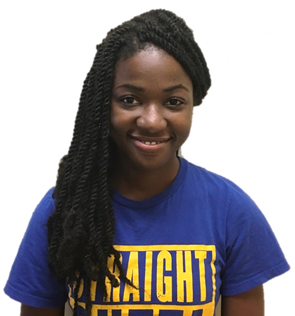 Major: Nursing
Classification: Senior
Tutors: Fundamentals of Professional Nursing, Pharmacology, and Anatomy & Physiology I & II

Nalucha Shakalima says "I have always loved learning and I chose to go into nursing because I wanted to make a difference in people's lives." She is a member of the Velma Fudge Grant Honors Program, Global Ambassadors, The Free Project, and the Honda All Stars Campus Challenge. "Outside of keeping my nose in the books (which is most of the time), I like to read for leisure, workout, cook, catch up on my favorite TV shows & watch Youtube," Shakalima adds. Her favorite thing to do at ASU is watch the ASU band perform at games and enjoy the homecoming festivities.

Shakalima makes a difference in the lives of the students that she tutors every day. She is dedicated to helping young nursing students find their footing and establish habits that will help them to succeed.
If you need help COME SEE HER TODAY!
Nalucha is available M/T/W from 4-6 PM,
Tutoring is M - R from 4:30-8:30 PM on the 3rd floor of the library.
If you would like to be a peer tutor, contact amy.sloan@asurams.edu