COVID-19 Withdrawal Process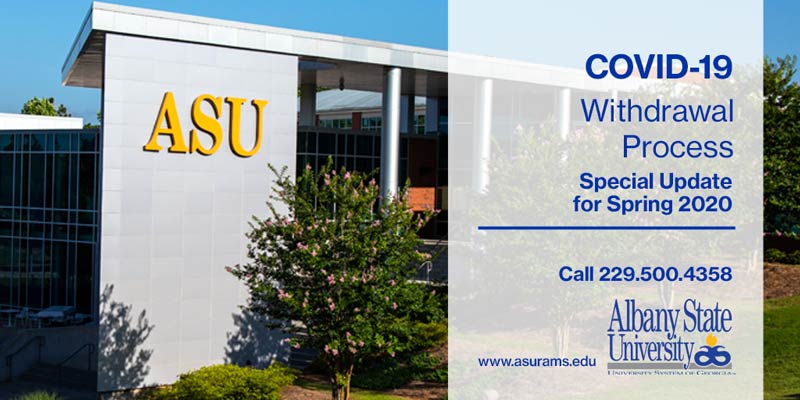 ASU's Current Withdrawal Process in Spring 2020
ASU's current withdrawal policy (click here to review current withdrawal policy in the catalog ), provides the process for students to withdraw from a class both before and after the designated withdrawal date. For students currently in regular full-term classes for spring 2020, the designated withdrawal date was Thursday, March 19. Beginning Friday, March 20, students could withdraw only by seeking a late medical or hardship withdrawal through Student Affairs.
Amended Withdrawal Process for Spring 2020 Only
With the transition to online and remote instruction scheduled to begin on Monday, March 30, students may face obstacles in successfully negotiating this transition for a variety of reasons and feel that they may need to withdraw from classes. In these instances, students should email their academic advisor to express their desire to withdraw and why. The academic advisor should reach out to students as soon as possible, but within no more than five business days.
If, after conversation with the academic advisor, students decide to withdraw from any or all classes, they must complete the following steps below.
Course Withdrawal is a request by a student to cancel his or her enrollment in a particular single course after add/drop period for the term.

Semester Withdrawal is a request by a student to drop ALL classes and/or cease attendance in all classes for the term. Failure to attend class is not equivalent to a withdrawal and students will not receive an adjustment of charges or grades unless a formal withdrawal is filed with the Office of the Registrar and approved prior to deadline.
The Office of the Registrar will complete the withdrawal process.
This process should be submitted to the office by Friday, May 1.
Students who wish to complete a medical or hardship withdrawal from ALL courses should email the Office of Student Support and Student Conduct at studentaffairs@asurams.edu for Hardship or Medical Withdrawal Policy. If approved, the full withdrawal will be processed by the Office of the Registrar. This application must be completed and submitted by close of business on the last day of finals.
For Spring 2020, the limited withdrawal policy for undergraduate students will be waived. No withdrawals will count against the 16 hour-withdrawal limit.
These policies apply to both undergraduate and graduate students at Albany State University for all classes offered by ASU, whether delivered face-to-face or online.
However, some ASU students may be enrolled in classes offered through eCore. In this program, the policies and processes may differ slightly. While ASU students enrolled in eCore courses must follow eCore withdrawal policies, any withdrawals from eCore will be waived in the limited withdrawal policy.
Students taking eCore classes should click here.
BEFORE THE DESIGNATED WITHDRAWAL DATE
Students may withdraw from courses following the drop/add period until approximately one week after midterm by completing the withdrawal process. A grade of "W" will appear in the student's official records if the student has withdrawn from 16 credit hours per the policy (click here to review current withdrawal policy in the catalog). For the 17 credit hour and each subsequent withdrawal that counts under this policy, students will receive a grade of "WF." However, a student may not exercise this right to withdraw to avoid sanction for academic dishonesty. Instructors may assign a "F" during final grading for students not attending class. It is the responsibility of the student to complete the withdrawal process. A withdrawal is official when it is received and processed by the Office of the Registrar.
AFTER THE DESIGNATED WITHDRAWAL DATE
Students will not be allowed to withdraw after the designated withdrawal date as published in the school calendar as required by Board of Regents' policy; however, students may petition an exception to the Board of Regents' withdrawal deadline for cases of hardship by completing a petition for withdrawal form available in the Dean of Students Office, Student Union, 3rd Floor. The petition will become a permanent part of the student's file. If the petition is approved, the student will be assigned a grade of "W" unless there was a previous sanction for academic dishonesty.
No fee adjustment will be made for withdrawals except as outlined in the Refund Policy. Students receiving financial aid should be aware that withdrawal from courses may affect continued financial aid eligibility. Refer to the Satisfactory Academic Progress Policy for additional information.
*LIMIT ON COURSE WITHDRAWALS (16 credit hours "W" POLICY) FOR UNDERGRADUATE GRADUATE STUDENTS
Effective Fall 2017, all undergraduate and graduate students are limited to 16 credit hours course withdrawal ("W") grades for their entire enrollment at Albany State University. Once a student has accumulated 16 credit hours "W" grades, all subsequent withdrawals will be recorded as "WF." The grade of "WF" is calculated as an "F" for GPA purposes.
ADDITIONAL POLICIES