Alumni Spotlight: Jahbarhi Watson
Jahbarhi Watson
Specialist, U.S. Army and 1st Infantry Division Band
ASU alumnus and Lithonia, Georgia native Jahbarhi Watson ('09) graduated with a bachelor's degree in music education. He is currently a specialist in the U.S. Army and member of the 1st Infantry Division Band where he plays the saxophone in the brass band, rock band, ceremonial band and concert band.
He also serves as the section leader for the concert band, an arranger for the brass band and rock band. He previously served as director of bands for three years at Greene County High School in Greensboro, Georgia.
While at ASU, Watson joined the Kappa Kappa Psi National Honorary Band Fraternity, Phi Beta Sigma Fraternity, Inc., and Phi Mu Alpha Sinfonia Fraternity of America. He was also a member of the ASU Marching Rams Show Band where he served as the drum major.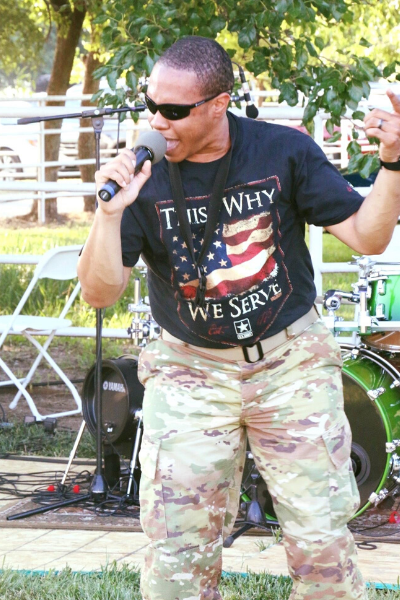 What do you like best about being in the Army and playing in the 1st Infantry Division Band?
Being in the Army provides amazing benefits for my family and myself. We have the opportunity to travel to different states and experience different cultures. The Army band gives me the opportunity to tell the Army's story through music while sharing my own experiences. Also, you meet some truly amazing people and see some pretty awesome places.
What is your typical day?
On a typical day, I perform physical training with my squad or Music Performance Team. Morning formation starts at 9:15 a. m. This is when information is distributed for the day and any information regarding upcoming missions for the week. Once the formation is complete, you either work in your assigned shop or conduct individual practice. Our lunch break is usually an hour and a half and the duty day ends at 5 p.m. On days when we have missions, the schedule may fluctuate.
Who made the biggest impact on you while at Albany State University?
There are several individuals who had an impact on me during my time at ASU. The person who stood out the most was Richard Gordon III also known as Tre may he rest in Heaven). Tre served as drum major my freshmen year of 2004 and became my mentor/motivator soon after. In 2006, I had the opportunity to serve alongside Tre as drum major and fraternity brother. His personality was always uplifting and the words "cannot" didn't exist in his vocabulary. If there was a will, there was always a solution.
We had the opportunity to pledge Phi Beta Sigma together in the fall of 2006. Having the opportunity to see how he interacted with people gave me the chance to change a lot of things about myself. During long road trips, we had conversations, which ultimately opened my mind and helped me think outside the box. Richard Gordon is the reason I became the man I am today. You only live life once so why not enjoy it and always remember to "Strive for the Highest." May his soul forever rest in peace.
What are the obstacles you've had to overcome to progress in your field?
The biggest obstacle is being separated from my family and friends. In the Army, you go where the Army tells you to go. Often, you don't have an opportunity to say yes or no. I've had to sacrifice a lot of time away from my family in order to accomplish the mission.
What advice would you give to students to pursue their dreams?
First and foremost, it is never too late to start or continue a dream. Always set goals that are realistic and achievable. Hold yourself accountable for you" actions and do not waste precious time focusing on negativity. If something is out of your control, do not dwell on it. Keep moving forward toward your destination.
Mistakes in life will happen at some point. Do not view these mistakes as failures. They were just practice attempts to achieve the desired outcome. Lastly, you only lose when you stop trying.
"I am the master of my fate. I am the captain of my soul." -Invictus by William Ernest Henley