Student Spotlight: Norma Davis
Norma Davis
ASU Senior Biology Major
Norma Davis, a Deltona, Florida native, is a senior majoring in biology. She serves as the senior class senator and president of the Minority Association for Pre-medical Students. She is a Thurgood Marshall College Fund and Velma Fudge Grant Honors Program Scholar, former Honda Campus Allstar Challenge captain and a member of Alpha Phi Omega National Service Fraternity. She received the Donna Vicari Outstanding Fellowship Award, 1st place in STEM at the Undergraduate Research Symposium and was the highest ranking freshman in her class.
In her spare time, Davis volunteers at the Albany Humane Society and Phoebe Putney Hospital and was a member of the 2020 Census Complete Count Committee.
What motivated you to learn more about biology?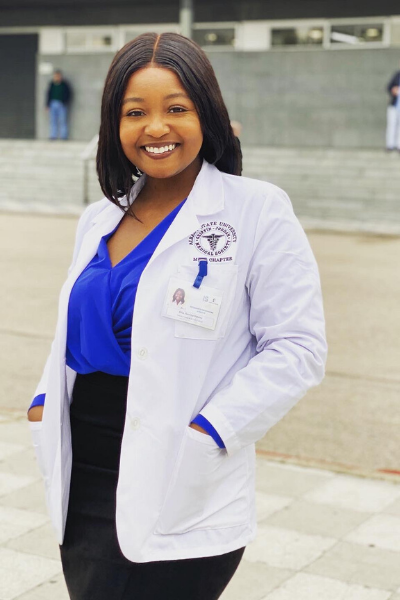 In high school, my biology teacher made me realize how easy the subject matter was for me. I also want to become a doctor and the field of biology is going to help me reach my goal.
Why did you choose ASU?
My best friend's mom attended ASU and loved it. I hadn't applied to any HBCUs, and I thought I would give it a try. As soon as I stepped on campus, I fell in love.
What was an internship or leadership role you have participated in and what was that like for you as a college student?
In the summer of my junior year, I attended a summer research internship at the University of Michigan. It was an amazing experience and helped me understand the type of scientist I would like to be. As a college student, I had to adjust from a smaller campus to a mega campus with a variety of people from different backgrounds and nationalities.
What do you love most about your chosen field?
I get to heal people whether it be mentally, physically, emotionally, etc. What I want most is to help people ease the scariness of being a patient.
Who made the biggest impact on you at ASU?
Dr. John L. Williams. He has been my mentor from the very beginning, and I honestly do not know where I would be without him. His guidance is the best thing about my college experience.
What are obstacles you've had to overcome to progress as a college student?
I lost my father in the beginning of 2018 and it took a toll on me emotionally and academically. I made a few failing grades, but I refused to give up. I had to retake my classes, and I made A's. In the beginning of 2019, I caught the flu and went into organ failure. I had to take the semester off of school to focus on my health. Summer semester, I came back to school and achieved a 4.0 semester.
What is one thing you wish you would have known or could have done differently while attending ASU?
I wish I would have became involved in the Albany community earlier in my college years.
What advice would you give to students with an interest in your field or at ASU?
Plan ahead and have multiple back up plans. Just because plan A doesn't work doesn't mean plan B-Z will not. It's not about the mistakes in the past, it's about the accomplishments that propel you into your future.