Albany State Hosts Annual Basketball Homecoming Vs. FVSU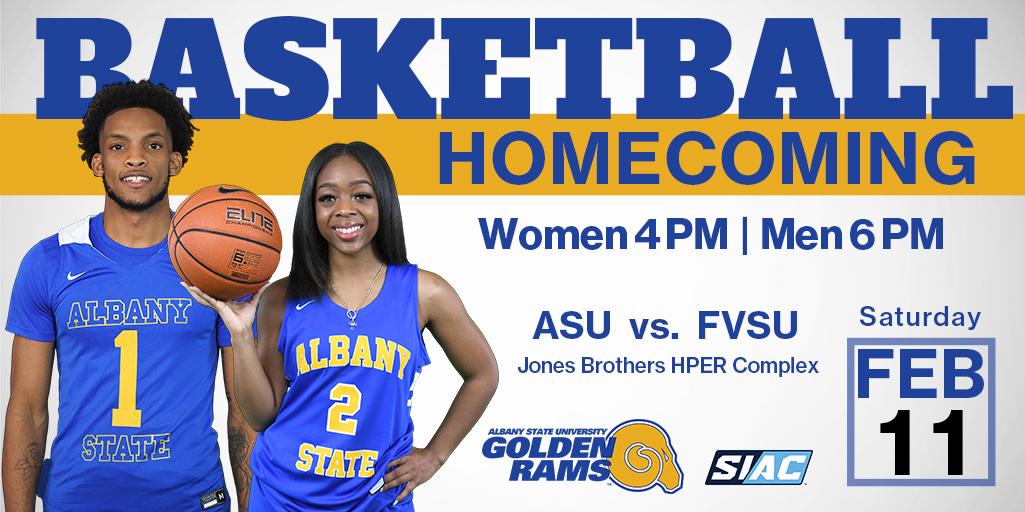 The Albany State University (ASU) Golden Rams will face Fort Valley State University (FVSU) on the court this weekend in the Annual Homecoming Basketball games at the Jones Brothers HPER Complex on East Campus.
The Battle of the Blue and Gold will take place on Saturday, February 11. Tip-off is set for 4 p.m. for the women and 6 p.m. for the men. Fans will not want to miss this game, and can purchase their tickets on the athletics website.
"Basketball Homecoming is a great opportunity for both our men's and women's basketball teams to play our rival in a SIAC contest. We look forward to the Jones Brothers HPER Complex being at capacity with Golden Rams alumni, fans, faculty, staff, and students," said ASU Athletics Director Tony Duckworth.
The men's basketball season is currently 7-17 overall, while the women's basketball is 6-16 overall.
"We are grateful for the student body and alumni support of our games. Our student-athletes are working with the goal of winning one day at a time. We are excited for the atmosphere that Homecoming will provide for our campus and community," said Head Men's Basketball Coach Patrick Gale.
General admission ticket prices are $20, and ASU students are free with ASU ID.
Fans should familiarize with the Clear Bag Policy.
The game can also be watched virtually here.
During halftime, Women's Head Basketball Coach Robert Skinner will be honored. Coach Skinner celebrated his 600thcollegiate basketball game win when the Golden Rams defeated the Tuskegee Golden Tigers (68-60) on Tuesday, November 15, 2022.
Tickets can be purchased at www.asugoldenrams.com