Albany State University Prepares Students for Career Success at the JCPenney Suit-Up Event
Albany State University's (ASU) Office of Career Services partnered with JCPenney as students participated in the Suit-Up event on Monday, February 13. The event provides students with an exclusive shopping experience to acquire professional wear to dress for success.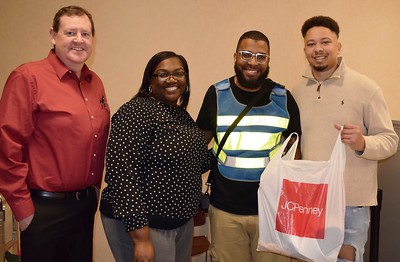 "This event supports our efforts towards providing students with access to success as the Standard at ASU," said Vice President for Enrollment Management and Student Success, Kenyatta Johnson. "Our institution will continue to be innovative as we seek opportunities for our students to excel both personally and professionally."
The first 100 students at the event each received $50 gift cards towards their shopping expenses provided by the Office of Career Services and made possible by GEICO. 156 students attended the event with assistance from volunteers of ASU faculty and staff members.
"This event would not have been possible without our campus and community partnerships of which I am grateful for," said Director of Career Services, Dr. Julie Francis-Pettway. "We will continue to provide opportunities to support the critical career preparation necessary for the academic and professional success of our students."
To view the full photo album from the event, click here.
For more information about the Office of Career Services, visit www.asurams.edu/careerservices.