Ram Romance
Albany State University wishes all our alumni couples a Happy Valentine's Day. Below are a few featured RAM Romance stories.
Charles ('75, History) and Wyndolyn Edward ('76, Sociology) met when Charles noticed his future bride playing cards in the student center. After asking multiple times for her phone number, he finally succeeded. This was when their love story began. He noticed her again at a Chi-Lites Concert on campus, and they also took several classes together where they developed a friendship. After several years together, Charles proposed after Wyndolyn played the "Mississippi Trick." She said her family was moving to Mississippi, and Charles insisted nothing could stand in the way of their marriage. They married in 1977, and recently celebrated their 45th wedding anniversary. A family legacy, their two daughters also graduated from ASU. Charles is a published author. His book "Straight: From a Town Named Climax to the Top of My Game" includes the story of his time at the University.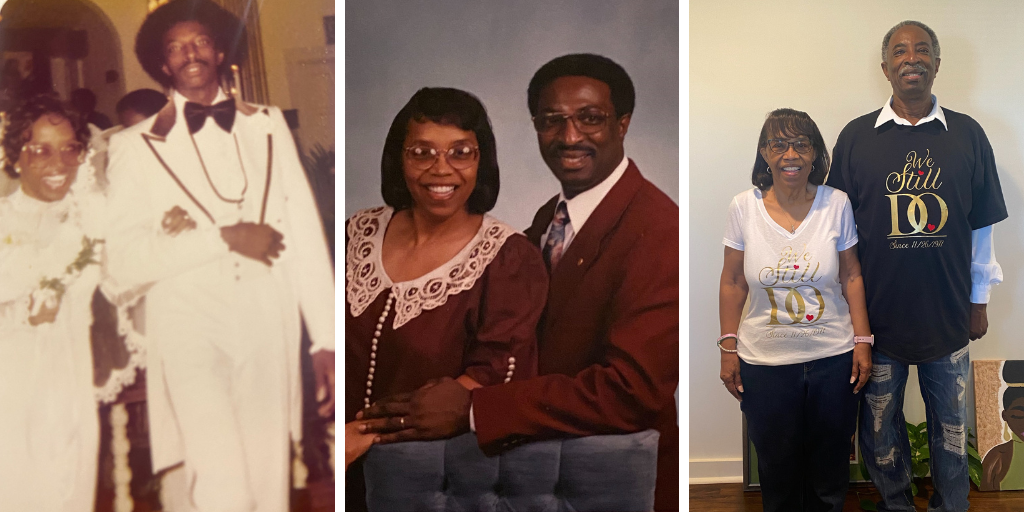 Their relationship advice is to go to church together and pray, be patient, know that forgiving is important, and admit when you are wrong.
---
---
The Parkers
Alessandra ('99, Chemistry) and Timothy ('00, Human Resources) Parker met at Albany State University (ASU) in 1995. The pair were attending a dance held in the Sanford Gymnasium, where they realized they had an immediate chemistry. They even talked on the phone for seven hours! In 1999, the day Alessandra graduated from ASU was also the day that Tim asked for her hand in marriage. They married in 2000. The couple has two sons, including a senior currently enrolled as a Golden Ram. "Our love for ASU has extended through our family. We are still UNSINKABLE!"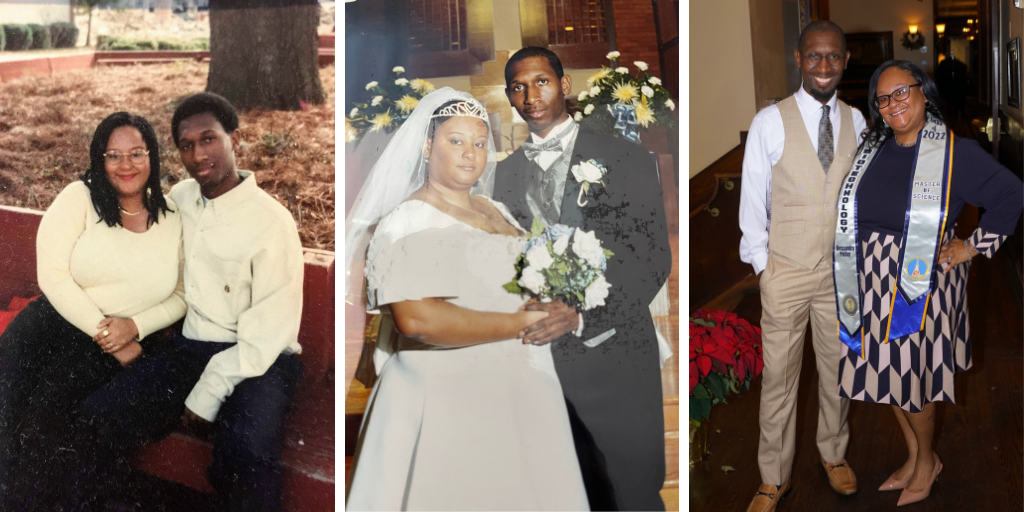 Their relationship advice is to know yourself and what to expect from the relationship. Communicate openly, recognize you are a team, and make the sacrifices needed to make the marriage work.
---
Dacia ('04, Early Childhood Education) and Reggie ('02, Political Science) Lampkin began their love story in the old ASU café. Dacia noticed a familiar face from middle school in line for one of Elmo's famous patty melts. However, her future husband walked by her without speaking a word! After the first football game, she decided to speak to him, and Reggie asked for her number. After that, the couple walked the yard, fell asleep on the phone, and never missed a new movie release. They recently celebrated their 11th wedding anniversary. "Albany State became the backdrop to our young love and established a bond that has stood every test tossed at us. We are both grateful for not only the educational opportunities provided by our alma mater but the place that it holds in our love story."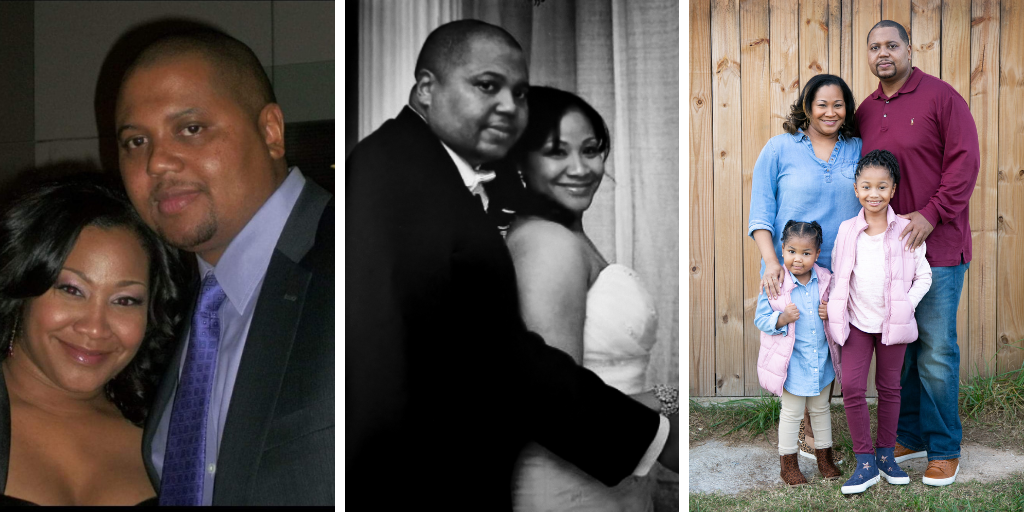 Their relationship advice is that friendship keeps a relationship stronger than love will. Your spouse as your best friend will make life's journey easier.
---
Felicia ('09, Early Childhood Education) and Jayvious ('11, Nursing) Gilbert met while she was attending ASU for graduate school, and he was in undergrad. They met while she was recruiting students to participate in the Camp Adventure program. He caught her eye because he was kind to everyone around him. After their friendship developed, Jayvious invited Felicia to the local skating rink during Homecoming week. That night, Felicia realized she wanted to spend more time with this man who cared so much. They began to spend more time together, on the phone, and eventually started dating. They married in 2015 and have two children together. In 2021, Jayvious passed away, but Felicia is grateful for their time at ASU. "We were always able to laugh or reminisce about our ASU experience."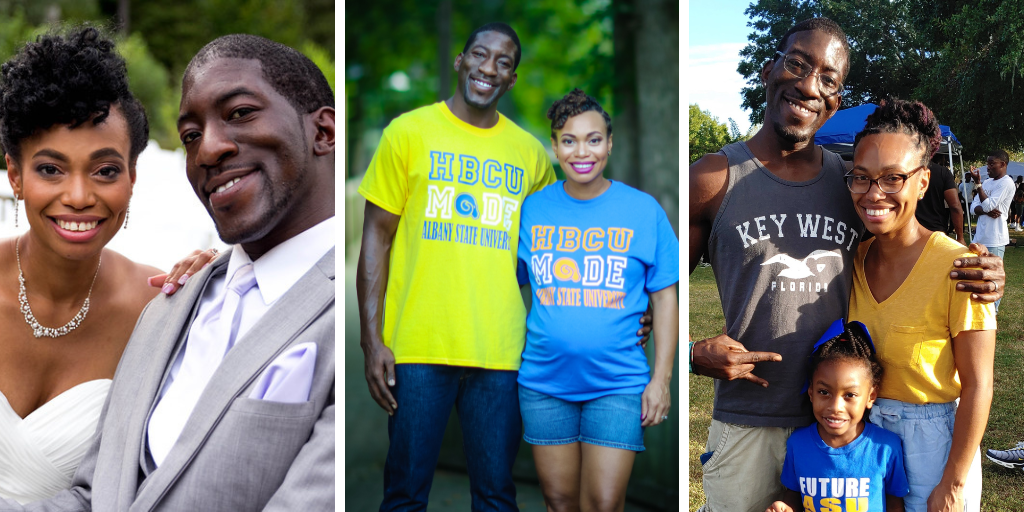 Felicia's relationship advice is that long-lasting marriage requires grace. Being kind to your spouse when they are down is important. Be considerate and consider their feelings before requesting more. Grace enhances the love and respect you have for one another.
---
The Nobles'
Cathy ('96, '05 Education) and Benjie ('96,'09 Criminal Justice) Nobles met on the tennis court in front of Andrews Hall. Even though Cathy had a crush on another young man, Benjie became her best friend. They ate lunch, studied, and even went to church together. Their friendship turned into true love, and the couple recently celebrated 28 years of marriage. "Thanks, ASU for creating the perfect atmosphere to bring us together."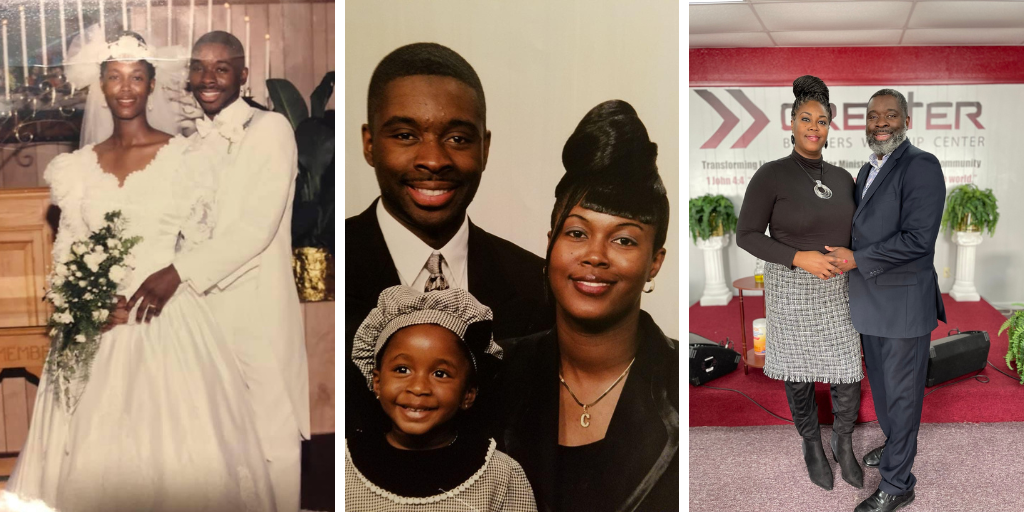 Their relationship advice is to always communicate, and to keep others out of the marriage (even parents). Talk with each other instead of social media.
---
The Bens
Courtney ('12, Computer Science) and Jabari ('12, Middle Grades Education) Ben met on campus in 2009. Smitten with Courtney, Jabari asked her out multiple times but was always unsuccessful. A few years after graduation, the couple reconnected through the mobile game, "Words with Friends." The competition was on, and for months Jabari proved he was tough competition to beat. When they finally decided to meet in person, Jabari ran to her, picked her up, and spun her around. He had a special way of making Courtney feel she was the only girl in the world. That was when Courtney decided to give her future husband a chance. After a year of friendship, and Courtney finally beating him in the game, they decided to make it official. In May, they will celebrate their first year of marriage.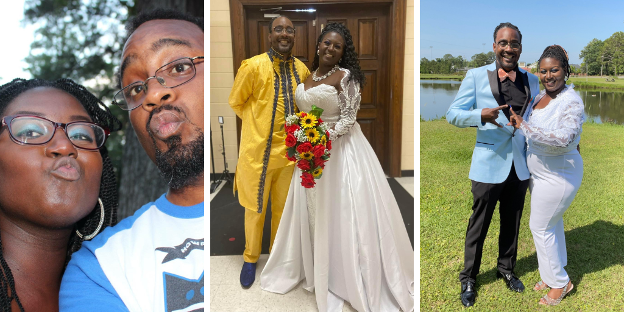 Their relationship advice is that friendship is the foundation, along with respect, honesty, trust, and open communication. It's also important to express yourself and be vulnerable with each other.
---
The Stancils
Curtis ('90, Business Marketing) and Sonia ('90, Business Management) Stancil met in 1987. Curtis first noticed his future bride walking across The Yard and was so captivated by her beauty, he started asking around about her. Even though she was spoken for, he pursued Sonia, and one day she finally agreed to have dinner. They dined at Maryland Fried Chicken, and Curtis knew he found the one when she ordered chicken gizzards and fried okra. Curtis was the President of the Students with Interrupted Formal Education (SIFE) team in the school of business and introduced Sonia to the advisors to be considered for student leader selection. That was when their relationship changed. From then on, they were known as Mr. President and First Lady, the power couple on campus. They went on to compete and become finalists in the SIFE International Competition in Missouri. Curtis then went on the pledge Kappa Alpha Psi, and became the Class of 1990's Class President. The couple married in 1991, and recently celebrated their 32nd wedding anniversary. "I Thank ASU and Wiley for my First Lady!"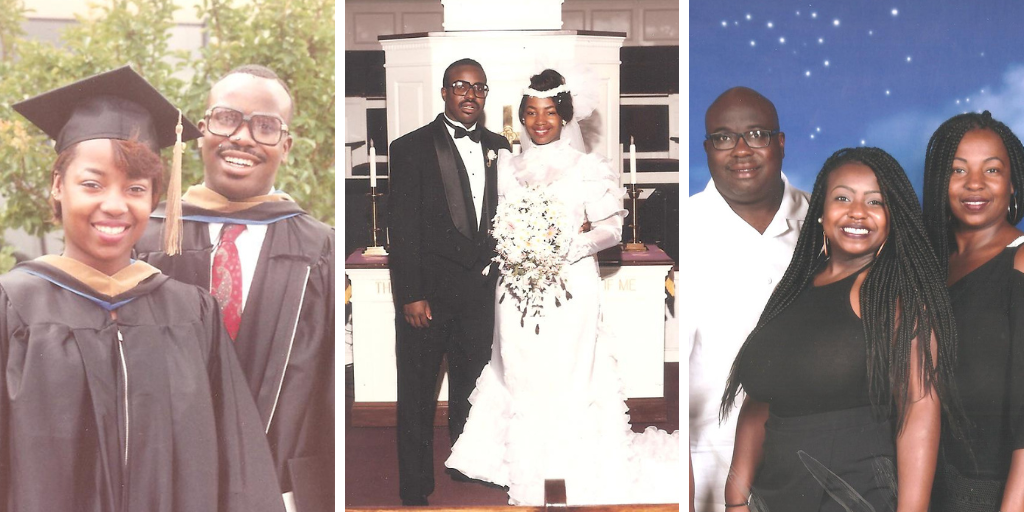 Their relationship advice is to be strong in your faith in God, and to be best friends, partners, lovers, and always honest.
---