ASU Women's Basketball Coach Celebrates 600th Collegiate Win
Albany State University (ASU) Women's Basketball Coach, Robert Skinner, celebrated his 600th collegiate basketball game win when the Golden Rams defeated the Tuskegee Golden Tigers (68-60) on Tuesday, November 15, 2022. The coach will be honored following the ASU Homecoming Women's Game against Fort Valley State University (FVSU) on February 11.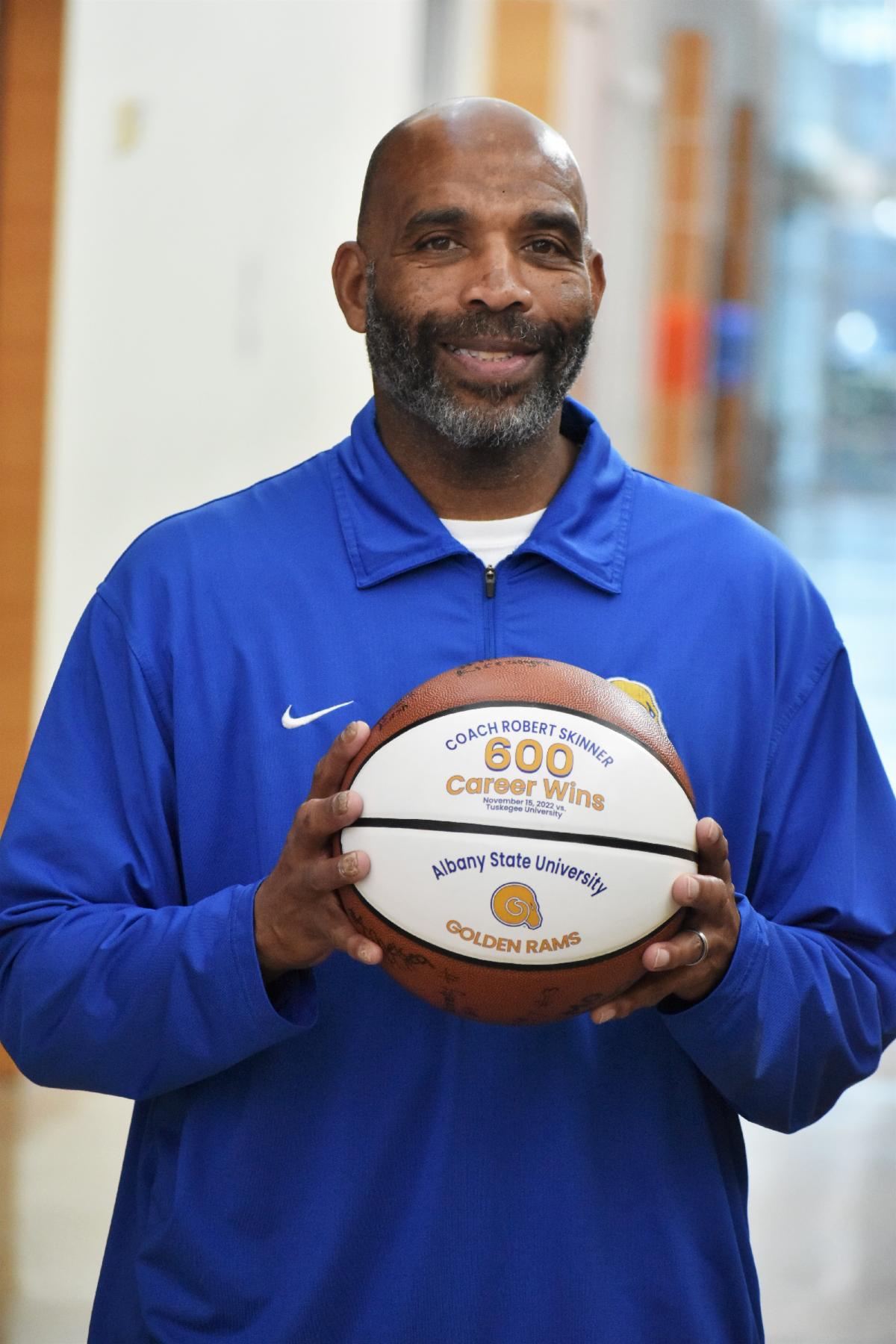 "I would like to extend my congratulations to Coach Skinner on his 600th win. This is a significant accomplishment for Coach Skinner and the history of ASU. We represent excellence as the standard in all that we do and are proud that our coaches uphold the same standard," said Athletics Director Tony Duckworth.
In 43 years as head women's basketball coach, serving 32 of those years at ASU, Coach Skinner has proved to be one of the most respected coaches in the Southern Intercollegiate Athletic Conference (SIAC). The coach has a 604-558 overall coaching record.
"It's been a journey, but I've had plenty of support from the student-athletes, parents, support staff, alumni, and the entire ASU family. I am humbled by what I've been given the opportunity to do here at ASU. Life has been good, but there is a lot more I would love to do while I'm here," said Coach Skinner. "God has really blessed me with a loving wife and two healthy sons. Without their support, this would not have been possible. Each day that I live, I'm so grateful that I was able to have a positive influence on so many young people's lives. When you have support from your immediate family, as well as your spiritual family, the sky is the limit. Only time will tell how far we can go. Thank you everyone for the support."
Coach Skinner took over the helm of the women's basketball program in 1991. In his first year as head of the Golden Rams women's basketball program, the team finished with a 20-9 overall record.
During the 1995-96 campaign, the Golden Rams women's basketball team won its first SIAC championship and earned a trip to the NCAA South Region tournament. In 1997-98, the women's basketball team won its second SIAC championship for the second consecutive year and advanced its season to post-season play. The Golden Rams collected another SIAC championship in 2014-15, where the Golden Rams finished with a 19-10 overall record.

In addition to coaching women's basketball, Coach Skinner coached the volleyball and softball teams, leading them to their respective SIAC championship wins.
Skinner is a native of Paducah, Kentucky. He received a Bachelor of Arts degree in Sociology with a minor in Athletic Coaching from Murray State University. Over the years, Coach Skinner has received numerous SIAC conference honors and awards. He is a Women's Basketball Coaches Association (WBCA) member and serves on the NCAA Division II Women's Basketball Committee.
To purchase tickets for the basketball homecoming double header, click here.
For more information on the Golden Rams, visit www.asugoldenrams.com.