Albany State University 2018 spring commencement ceremonies to be held May 5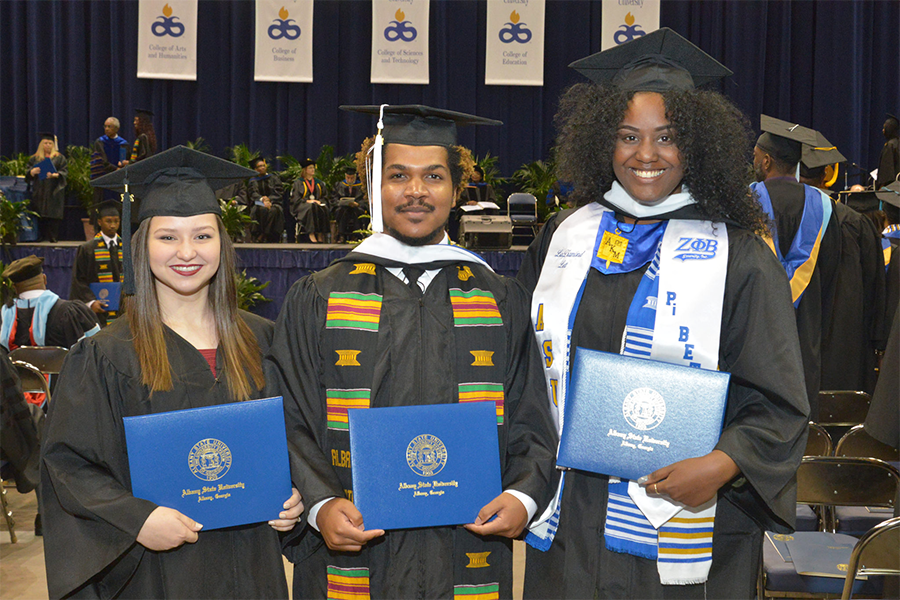 ALBANY, Ga. – Albany State University will honor nearly 600 graduates at two spring commencement ceremonies at 9 a.m. and 3 p.m., Saturday, May 5, at the Albany James H. Gray Sr. Civic Center. Processions will begin at 8:30 a.m. and 2:30 p.m., respectively.
The Honorable Judge Penny Brown Reynolds will serve as the keynote speaker at the morning ceremony for candidates in the College of Arts & Humanities, the College of Education and the College of Sciences & Technology.
Brown Reynolds is the former state assistant attorney general and the first African American chief of staff and legal counsel to Georgia's lieutenant governor. She impacted many people with her internationally syndicated daytime television court series, "Family Court with Judge Penny," and received an Emmy award nomination for her work on the series. She achieved a distinguished position in Georgia's history as the first African American to hold the position of executive counsel, making her the first African American to serve as a lawyer for a governor in the southeast. For the last ten consecutive years, she has been named to the Atlanta Business League's 100 Most Influential Women.
Ken Boler, vice president of advertising for the Albany Herald and AlbanyHerald.com, will serve as the keynote speaker at the afternoon ceremony for candidates in the College of Business and the Darton College of Health Professions.
A premier newspaper, the Herald covers the Southwest Georgia region. Boler entered the newspaper business 15 years ago as an entry-level sales representative at the Florida Today/Gannett USA Today and later held senior management positions with Knight Ridder, Morris and now the Southern Community Newspapers Inc. (SCNI). A passionate community supporter, Boler serves as a board member for the Albany Chamber of Commerce, Boys & Girls Clubs of Albany, Albany Symphony, Darton State College Foundation and the Georgia Budget and Policy Institute.
The morning commencement ceremony will include a U.S. Army ROTC commissioning ceremony, following the conferring of degrees. The ASU Class of 1968 will also be recognized at the same ceremony. Participants will join the graduation processional.
Additional commencement related activities are listed below.
The Class of 1968 50-Year Reunion Reception, 2 p.m., Friday, May 4, L. Orene Hall Building (East Campus)
ASU Darton College of Health Professions Spring 2018 Pinning Program, 4 p.m., Friday, May, 4, West Campus Arena
The program is designed to honor and celebrate nursing and health sciences students who have completed the academic requirements necessary to become health professions.
ASU College of Education Professional Embracing Novice (PENning) Ceremony, 5 p.m., Friday, May, 4, Billy C. Black Building Auditorium (East Campus)
The program is designed to prepare future educators for the transition from college to the classroom. During the ceremony, veteran educators will pin the novice educators who are entering the education field.
###
Follow Albany State University on Twitter and Facebook @AlbanyStateUniv.