Golden Rams Sweep 2017-2018 SIAC Commissioner's Cups
Department of Athletics Honored as the Best in the SIAC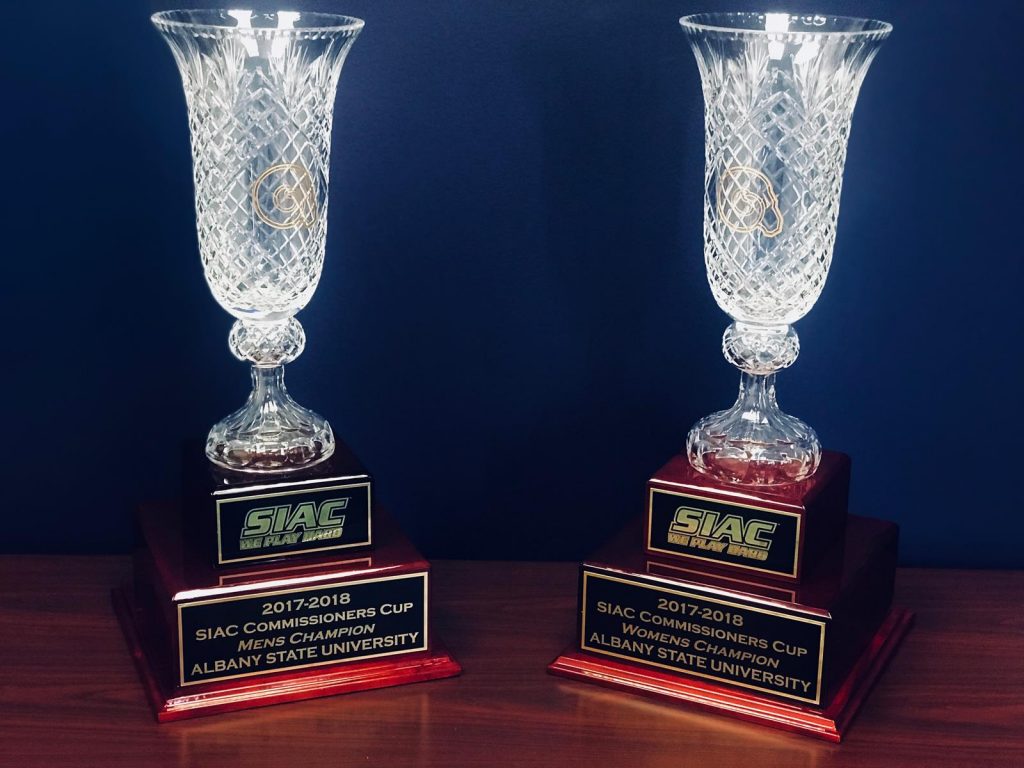 ASU Department of Athletics Honored as the Best in the SIAC
ALBANY, Ga. – The Albany State University (ASU) Athletics Department has officially closed the 2017-2018 academic year as the best in the Southern Intercollegiate Athletic Conference.
The Golden Rams made it a clean sweep as they were announced as the winners of this year's Commissioner's Cup for the achievements of both their women's and men's athletic programs. This is the first time ASU has won both awards in the same year.
The Commissioner's Cup is an all-sports award presented at the end of each academic year to the league's top performing school in conference play and is based on a point system, reflecting the finish of each team in conference play. It is presented to the athletic department within the conference that has excelled in both men's and women's sports.
"I am beyond thrilled that the SIAC has honored Albany State with the esteemed Commissioner's Cup for both our men's and women's programs", states Director of Athletics Sherie Gordon. "It was a banner year for our institution and this award is a testament to the dedication of our student-athletes and staff. Our alumni, the Albany area community and fans should feel proud because each of our student-athletes are leading with pride, and they deserve to be recognized for their great work. It's a great day to be a Golden Ram!"
ASU claimed the Commissioner's Cup on the men's side for the second straight year, and was awarded the honor for their women's programs for the first time since 2013-2014. The scoring system is as follows: 10 points for conference titles, seven points for runner-up championship titles, and four points for third place championship titles. This past season, the Golden Rams won conference championships in women's cross country, men's golf, baseball and softball and were runner-up for the title in men's cross country.
"I am extremely proud of the achievements of our student-athletes, both on and off the field," said ASU Interim President Marion Fedrick. "This accomplishment speaks volumes to the commitment of our men's and women's teams, as well as their coaches, throughout the year. They have represented our university well, and it is an honor to celebrate this win with them."
###
Follow Albany State University on Twitter and Facebook @AlbanyStateUniv.