M.A.L.E.S. Mentors Winter Youth Summit inspires middle school students to be scholars and leaders
M.A.L.E.S. Mentors Winter Youth Summit
inspires middle school students to be scholars and leaders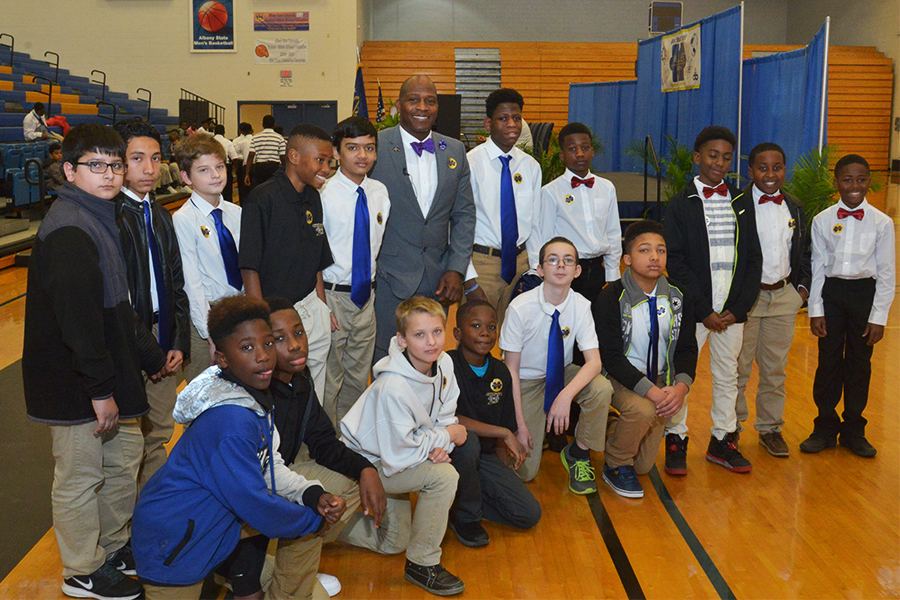 Mr. Antonio Leroy (center), Executive Director of the M.A.L.E.S. Mentors Program, welcomed local middle school boys to ASU's annual Winter Youth Summit.
ALBANY, Ga. – The Albany State University (ASU) M.A.LE.S. Mentors program welcomed sixth and seventh grade male students to its annual Winter Youth Summit, Friday, Jan. 26. The event was held in HPER gym and hosted by The Men as Advocates for Leadership, Excellence and Success (M.A.L.E.S.) Mentors program, formerly known as CAAM, An estimated 400 to 500 middle school boys attended. This year's Summit theme was "Education through Exploration." During the Summit, students were broken into groups to engage in high-energy academic and motivational sessions related to science, technology, engineering and mathematics (STEM).The M.A.L.E.S. Mentors program is dedicated to enhancing the collegiate experiences of male students at Albany State. Summit speakers included Martez Favis, author of the self-improvement book S.O.A.R., and aerospace engineer, Kyhiel Lockhart.
###
Follow Albany State University on Twitter and Facebook @AlbanyStateUniv.