Albany State University students to conduct medical research at UCLA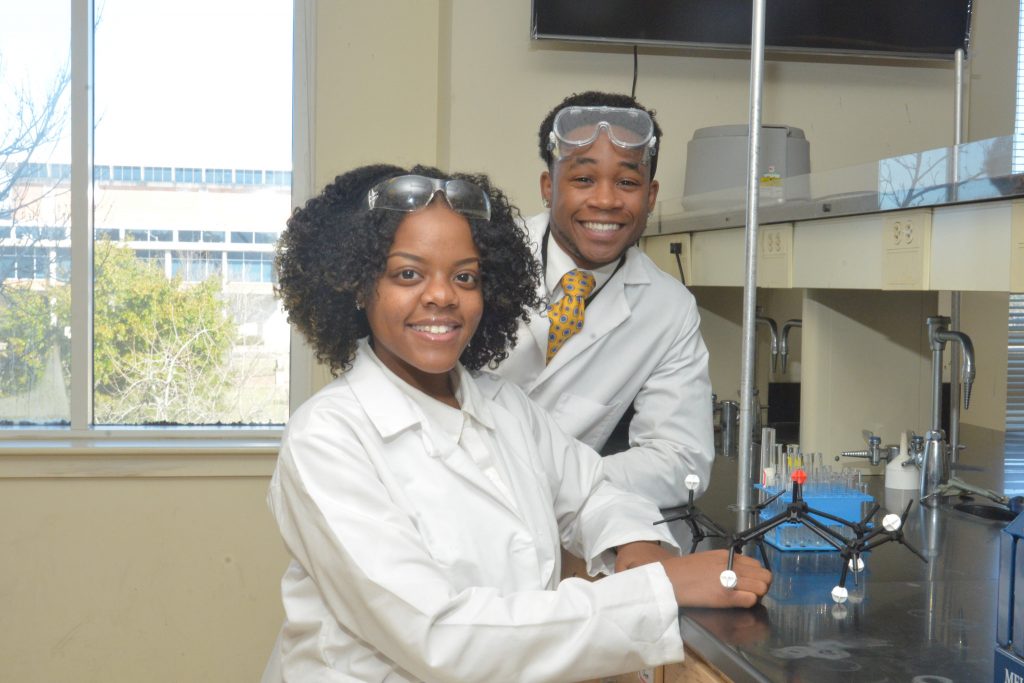 ASU students Emoni Cook and Jerome Neal will travel to California this summer to participate in UCLA's Evolutionary Medicine Research Program.
ALBANY, Ga. – Two Albany State University (ASU) students have been selected to conduct medical and clinical research at the University of California at Los Angeles (UCLA), one of the highest ranked research institutions in the world.
Emoni Cook, a senior biology student from Atlanta, and Jerome Neal, a junior forensic science student from McDonough, will travel to California from June 24 – August 18 for the Evolutionary Medicine Research Program being held on UCLA's campus. Participants will examine how medical and clinical problems generate new research questions in evolution. Evolutionary medicine combines ecology, evolutionary biology, anthropology, psychology, zoology, systems biology and microbiology with medicine.
"After graduating from Albany State University, I would like to pursue a Ph.D. in biology at UCLA, become a biologist, and teach the subject at a Research I institution," Cook said. "I am passionate about helping others apply and understand complicated concepts in a more relatable way through interactive learning."
"I would like to pursue a Ph.D. in molecular toxicology at UCLA. I am impressed with UCLA's molecular toxicology graduate program, which invites leading scientists in toxicology to speak in conjunction with the program's environmental health sciences seminar series," Neal said. "When I receive a doctorate from UCLA, I would like to become a forensic toxicologist for the Federal Bureau of Investigation or the Central Intelligence Agency."
Cook and Neal, along with summer interns from other universities, will work closely with professors from UCLA's David Geffen School of Medicine. The program will cover transportation costs, lodging and food expenses. Students will also receive a $3,000 stipend.
The initiative recruits undergraduate juniors and seniors from historically black colleges and universities who are interested in exploring evolutionary medicine topics.
"I am extremely proud of both students, and I am confident that Dr. (Pamela) Yeh, the director of the UCLA program, will be impressed with the students' intellect and research skills," said Florence Lyons, director of the ASU Velma Fudge Grant Honors Program. Lyons initiated the partnership between ASU and UCLA in an effort to increase the number of research opportunities for ASU students. The partnership allows Lyons to recommend a student for the Evolutionary Medicine Research Program each year.
As a result of Cook and Neal's participation, they have the opportunity to receive free tuition to pursue a master's degree or doctoral degree at any of the 10 University of California institutions, provided they meet all of the requirements for acceptance. They would also receive an annual $26,000 stipend.
###
Follow Albany State University on Twitter and Facebook @AlbanyStateUniv.