Albany State honor students present research at Georgia Communication Association Conference
Albany State honor students present research at Georgia Communication Association Conference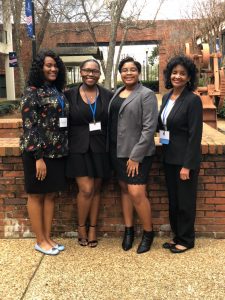 ASU freshmen honor students participated in a panel presentation at the Georgia Communication Association Conference. Dr. Florence Lyons served as the panel moderator. L to r: DeStandreana Norwood, Danielle Prier, Kristin Martin, Lyons
ALBANY, Ga – Three Albany State University (ASU) freshmen honor students presented research at the Georgia Communication Association (GCA) Conference held Friday, Feb. 16 at Columbus State University.

The panel presentation, titled STEM: Innovation and Communication, was moderated by Florence Lyons, director of the Velma Fudge Grant Honors Program. Research topics included:
DeStandreana Norwood - Addressing Communication Dilemmas Faced by the Caregivers of Terminal Cancer Patients -
Danielle Prier - How to Improve Communication Skills in STEM Students
Kristin Martin - Communication and Technology in the Classroom

Norwood, Prier and Martin plan to submit their research for publication consideration to the Georgia Communication Association Journal. Only a small number of undergraduate students were selected to present at GCA. The majority of conference presenters consisted of college and university faculty in Georgia and Florida.
###

Follow Albany State University on Twitter and Facebook @AlbanyStateUniv.