ASU nursing faculty member presents research at conference
ASU nursing faculty member presents research at conference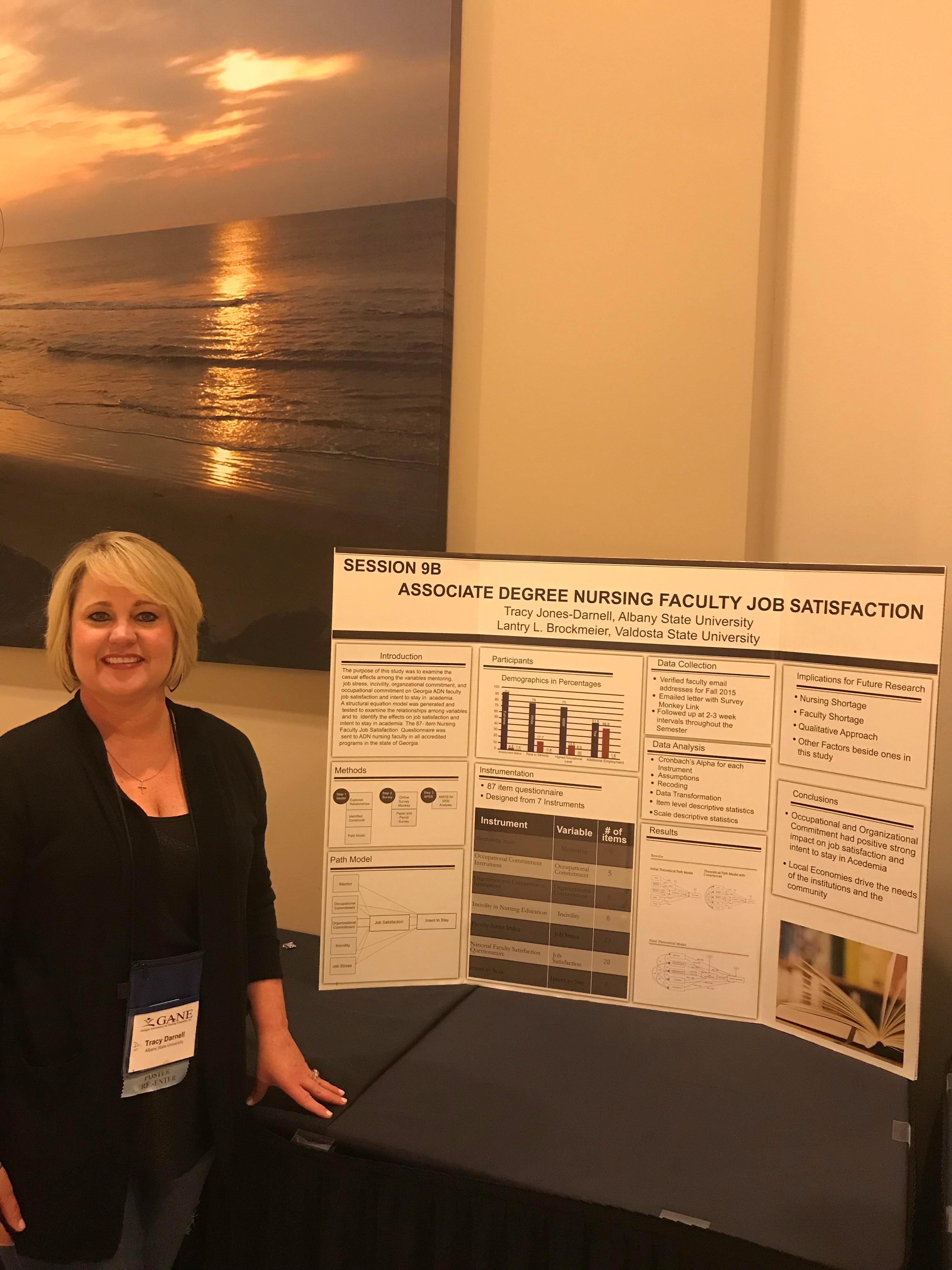 ASU professor, Tracy Jones-Darnell, presents research at an annual nursing conference.
ALBANY, Ga. – An ASU nursing faculty member recently attended the Georgia Association for Nursing Education Conference in Jekyll Island, Ga. on Excellence and Innovation in Nursing Education.
Tracy Jones-Darnell, nursing faculty from the Cordele Center was chosen to present her research.
The purpose of her study was to examine the causal effects among the variables mentoring, job stress, incivility, organizational commitment and occupational commitment on Georgia ADN faculty job satisfaction and intent to stay in academia. A structural equation model was generated and tested to examine the relationships among variables and to identify the effects on job satisfaction and intent to stay in academia.
The 87-item Nursing Faculty Job Satisfaction Questionnaire was sent to 217 nursing faculty resulting in 124 (57 percent) usable questionnaires. Occupational commitment and organizational commitment had the strongest, positive correlations with job satisfaction and intent to stay.
In the final path model, the variables organizational commitment, job stress and occupational commitment were the strongest predictors of job satisfaction. The variables occupational commitment, organizational commitment and job satisfaction were the strongest predictors of nursing faculty intent to stay in academia.
Nursing faculty enjoyed the rest of the conference as well. Andrea Dozier, assistant professor said, "One of our favorite classes was from the Georgia Simulation Alliance entitled Moulage to Enhance Symptom Recognition and Support Decision Making Workshop. This was an interactive workshop with hands-on moulage techniques and applications with an emphasis on visually significant conditions that will support decision making. Other classes attended included "Prevalent Legal Issues in Nursing Education," "Civility in the Workplace," "The Use of Adaptive Learning Technologies for Remediation after Benchmark Scores" and "Nursing Students and Depression."
###
Follow Albany State University on Twitter and Facebook @AlbanyStateUniv.