Albany State dental hygiene students provide dental services to elementary students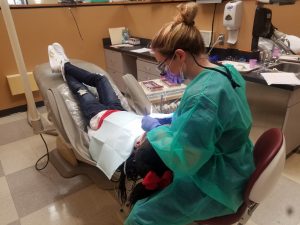 ASU dental hygiene students provided dental cleanings to Cooper-Carver Elementary School second graders.
ALBANY, Ga
-- Sophomore
dental hygiene
students from Albany State University visited local elementary schools to provide oral health and nutrition services and presentations to over 1,000 students in February. ASU students also provided cleanings, fluoride treatments and sealants to second grade students from Terrell County's Cooper-Carver Elementary School who visited ASU's Dental Hygiene Clinic.
Elementary students learned how to floss and brush properly. They also learned about healthy snack choices for good oral health. ASU students and faculty members visited local schools every Tuesday in February and Cooper-Carver Elementary School provided transportation to ASU's Dental Hygiene Clinic every Wednesday. Terrell County is declared as an oral health underserved population and 70% of its county water systems are non-fluoridated, resulting in a high cavity incidence among its school aged children.
The community outreach services were in celebration of February as National Children's Dental Health Month. The month-long national health observance brings together thousands of dedicated dental professionals, healthcare providers and educators to promote the benefits of good oral health to children, their caregivers, teachers and many others.
Participating schools included International Studies Elementary Charter School, Lake Park Elementary School, Sherwood Acres Elementary School, Kinchafoonee Primary School, Deerfield Windsor Primary School and CRK Head Start Center.
###
Follow Albany State University on Twitter and Facebook @AlbanyStateUniv.