ASU Commencement Spotlight: Alexius Lampkin, Bachelor of Science in Forensic Science and Chemistry
ASU Alumni Spotlight: Alexius Lampkin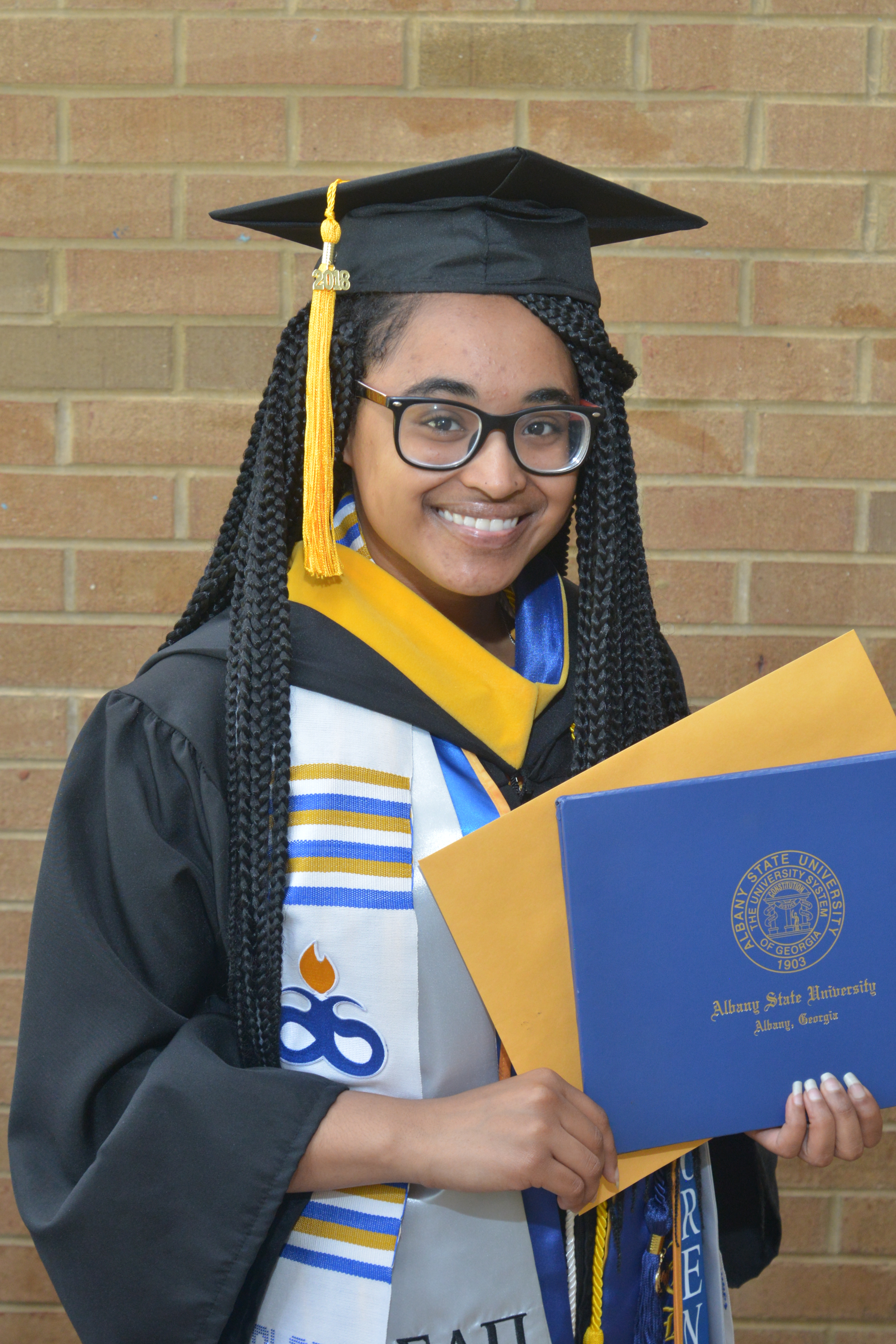 Alexius Lampkin
Alexius Lampkin, from Headland, Alabama, will graduate on May 5 with a bachelor's degree in forensic science and in chemistry. She is passionate about solving mysteries in a scientific way. Lampkin has held several leadership positions such as president of the Velma Fudge Grant Honors Program, the Forensic Science Club, and the Delta Delta Epsilon-National Forensic Science Honor Society. She is also a member of Alpha Kappa Mu-National Honor Society, Gamma Beta Phi-Honor Society, Florida Georgia Alliance for Minority Participation and Habitat for Humanity. She has participated in two undergraduate research studies, "Development of a Prostate Cancer Biosensor" and "Modeling the Metabolism of Synthetic Cannabinoids". She has held internships with Michigan State University studying "The Development of a Noninvasive Eye Disease Detection System" and the University of California, Irvine studying "Biomedical Imaging of Collagen in Multiple Tissues."
What are your post-graduation plans?
I plan on attending graduate school at the University of Wisconsin-Madison to obtain a master's in molecular and cellular pharmacology.
What do you love most about your chosen profession?
What I love most about my chosen profession is the interdisciplinarity of the field.
Who made the biggest impact on you and who is someone you consider to be a role model at ASU?
Dr. Melvin Shelton, former director of the Velma Fudge Grant Honors Program, had the biggest impact on me. I can remember my first day, freshman year in his ASU 1201 class when he looked me straight in my eyes and said he would not accept anything less than all A's from me. He went on to say that he expected me to sit in the front of every class, introduce myself to every professor and to speak loud and proud every time my mouth opened. His words continued to resonate with me as I matriculated, and I can honestly say that I am a better person for them. There is not one distinct role model for me as everyone has had a hand in shaping me to be the person I am today. Furthermore, I want to thank Mrs. Williams in the Honors Program for giving me tough love when necessary, Dr. Vanderpuye for taking me under his wing and teaching me how to be a scientist, and Mr. Pierce for always being my go to when my brain has "checked out." I am thankful for these people and many others for their support and influence on me.
What advice would you give to students with an interest in ASU and your chosen profession?
Albany State is an amazing institution to pursue an undergraduate degree. The family-oriented atmosphere created by the faculty and staff helped me to maximize my potential even when I couldn't see it. They will constantly push you to become better and they are there to tell you what is right and wrong—personally and academically. The thing I liked most about ASU is how it manages to be big, yet small enough for everyone to succeed. My advice to a student interested in ASU and my field of study is to never accept "no" as an answer when chasing your dreams. Another piece of advice would be to find a mentor who will help to lead you, guide you and advocate for you when you are not present to represent yourself. Lastly, my biggest advice is that during your entire undergraduate matriculation, do not lose yourself and remember to keep a good work-life balance because your education is the main reason you are here.
###
Follow Albany State University on Twitter and Facebook @AlbanyStateUniv.