Albany State alumna receives Regents Hall of Fame Alumni and Distinguished Friends Award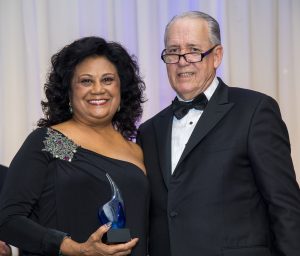 ALBANY, Ga - Carolyn Glenn believes in giving back, and for 51 years, she's been committed to giving back to Albany State University (ASU).

On Friday, March 2, she received the 2018 Regents Hall of Fame Alumni and Distinguished Friends Award. The award was presented during the University System of Georgia (USG) Foundation's annual Regents Scholarship Gala. The event raised nearly $1 million to promote, support and provide need-based scholarships for students at USG institutions.

Glenn, a 1967 graduate of Albany State College, remains an active alumna, committing time and financial resources to aid the institution. She is the single largest individual donor in the University's 100-year history.

"I'm just grateful for what Albany State did for me," Glenn said. "I will never forget it, and that's why I continue to be involved, and that's why I give back."

Glenn often encourages other alumni to give back. She helped to facilitate the Class of 1967 Golden Anniversary gift, which contributed over $250,000 toward need-based scholarships over a ten-year period. In addition, Glenn sponsored a fundraiser where more than 200 people raised over $300,000 in donations and pledges.

"I received a great education at ASU and that put me on a path to live a lifestyle that I never dreamed I would live," Glenn said. "Those of us who attended ASU in the 60s and before, we didn't come to ASU with a silver spoon in our mouths. We came from farmers and single-parent homes; we came from the projects, we came from underserved communities."

Glenn earned a Bachelor of Science degree in business education from Albany State, a Master of Arts in business and vocational education and a Master of Educational Administration from Georgia State University.

Over 20 years ago, she began her career in public school education and served as a secretary, business teacher, vocational coordinator and a high school administrator. During this time, she was named "Teacher of the Year," and was awarded an honorary life membership in the Georgia Parent-Teacher Association. She also served as secretary of the Georgia Vocational Association and a member of various state and local, committees.

In 1991, she co-founded "The Champion" newspaper and served as the publisher. "The Champion" made history in 1997, achieving the designation as the official newspaper for DeKalb County – a first for a black-owned newspaper in the state of Georgia. In 2002, "The Champion" again made history as the first black-owned newspaper in Georgia to hold membership in the Georgia Press Association (GPA). "The Champion" has won the GPA's coveted first place award, Newspaper of Excellence, nine of the past 10 years.

Glenn is the co-founder of the Earl and Carolyn Glenn Foundation and Unconditional Love for Children, Inc., which are non-profit foundations that provide resources to assist talented, yet underserved, young people in reaching their full potential.
###
Follow Albany State University on Twitter and Facebook @AlbanyStateUniv.