Albany State University Graduate School offers diverse degree programs
Albany State University Graduate School
offers diverse degree programs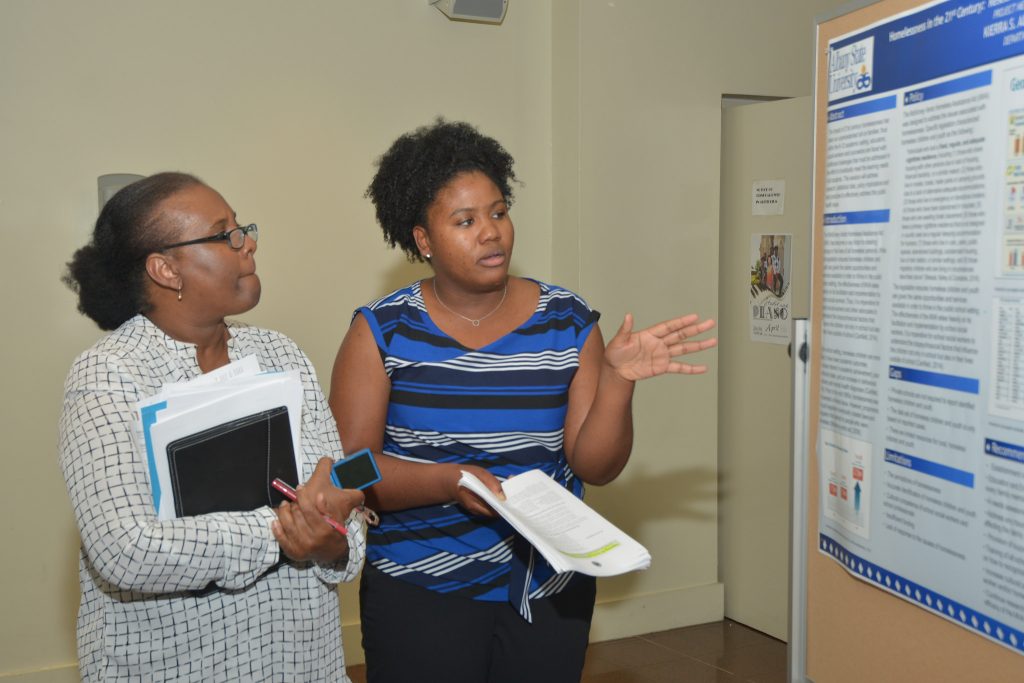 An ASU graduate student presented original research to Louise Wrensford, dean of the ASU Graduate School, at the 2017 Spring Graduate Research Symposium.
ALBANY, Ga. – From school counseling, to nursing, to business, Albany State University (ASU) offers 12 graduate degrees and professional programs in a variety of fields to fit the needs of traditional and non-traditional students.
"Students attending our graduate programs can be assured of quality, affordability and flexibility," said Louise Wrensford, dean of the ASU Graduate School.
Keeping up with industry trends, the ASU Graduate School has concentrations in high impact fields. According to Forbes, jobs related to accounting, healthcare, management and education careers are among the most profitable industries in the country.
Albany State offers master degrees in business administration, education, public administration, social work, criminal justice, nursing and counselor education. An Education Specialist degree is also available. Many programs, such as criminal justice, nursing and education are offered fully-online.
"The online programs address the need of both traditional and non-traditional students, but even for programs that are not fully online, many courses are offered in a hybrid format," Wrensford said.
ASU alumnus James Brown remembers the challenge of balancing school and a full-time job as he worked to receive a Master of Public Administration with a concentration in human resources management. But, he said, the demanding schedule was worth it.
"My experience as a graduate student at ASU was actually amazing. I met amazing professors and they were eager to help me along the way. I really enjoyed my experience," said Brown who now works as a graduate admissions counselor at ASU. "It was challenging at first – working full time and balancing graduate school – but I had to keep in mind that I had an end goal and that was to graduate with my master's degree."
Many students choose to attend part-time, Wrensford said, in efforts to address other responsibilities in their career and family life.
"Face-to-face classes are scheduled after 5 p.m. so students can attend after the work day, and many classes are scheduled once a week. There are also weekend classes. This flexibility allows the working professional the opportunity to pursue their educational goals," Wrensford said.
Administrators plan to continue improving the programs to align with industry trends and best serve current and future graduate students. A graduate school information session will be held June 2, from 10 a.m. to 12 p.m. in Eula Lovett Hall on ASU's East Campus.

A full list of graduate degree programs and concentrations can be found at the ASU Graduate School website. To speak to a Graduate School representative, please call 229-430-1354.
###
Follow Albany State University on Twitter and Facebook @AlbanyStateUniv.