ASU summer camp prepares Putnam County students for college life
ASU summer camp prepares Putnam County students for college life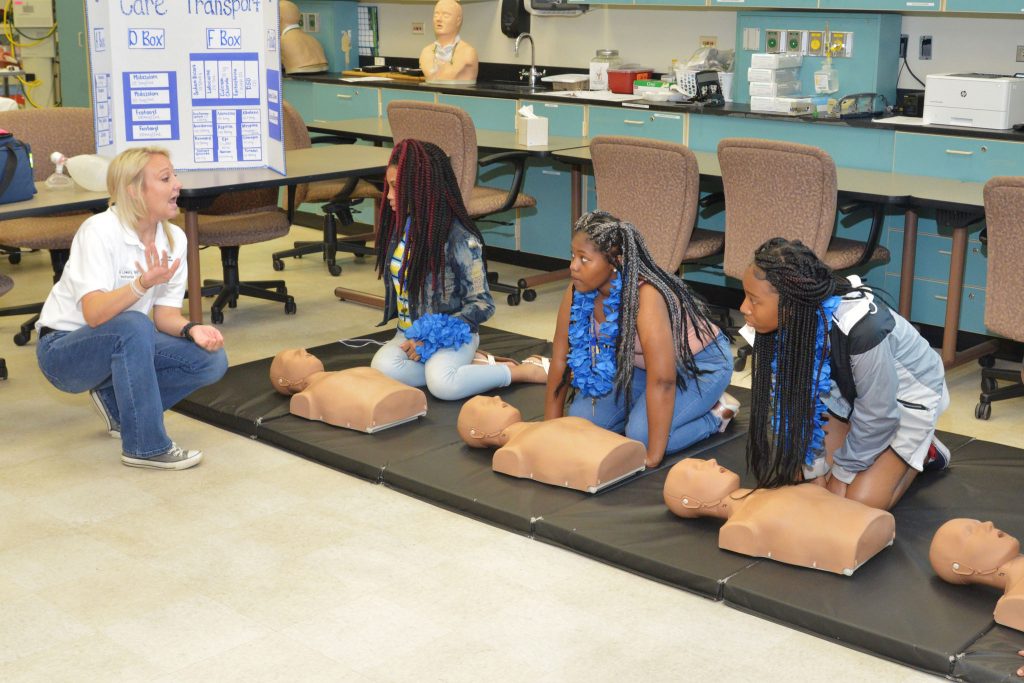 Putnam County Charter School System students participated in a variety of activities, including CPR training, during the newly established summer camp program at Albany State University.
ALBANY, Ga. – Rising ninth grader Tessa Shelton originally listed language as her favorite subject, but after completing class experiments during the new Albany State University (ASU) summer camp for Putnam County students, she said science is her new favorite.
"This experience made college seem easier than what everyone made it out to be," Shelton said. "The professors said everyone at ASU is very nice, and they actually showed it. This may be one of the colleges that I want to go to."
Shelton was one of 45 Putnam County Charter School System (PCCSS) students who participated in a summer camp program between the university and the school system. The program was help June 6 – 9 and June 13 – 16.
The two-week program helped to expose high school students to the academic demands of college life prior to acceptance. For one week each, two student cohorts explored opportunities for attending college, prepared for and completed college entrance exams and received assistance with completing college applications. The program also aided students in developing skills related to decision making, time management, financial literacy, career selection and social and character development. A January memorandum of understanding established the new partnership.
"Summer camp experiences provide excellent opportunities for high school students to gain an understanding of what college is all about," said Kimberly Holmes, vice president of Institutional Effectiveness and director of Title III Programs. "We were thrilled to have partnered with the Putnam County Charter School System this year and to have hosted 45 students at Albany State University. Our faculty conducted lab experiments, engaged the students in dance and music performances, simulated clinical experiences and demonstrated STEM education activities. It was an exciting two weeks, and we look forward to seeing these students back on campus as ASU Rams."
Breshya Farley, also a rising ninth grader, plans to pursue a career as a coroner. She enjoyed the summer camp, she said, and plans on attending ASU in the future.
"This was a great experience. In the classroom, we learned about important chemicals. I liked the chemicals and how they're put together to form new substances," she said. "I think this relates to being a coroner because I have to find out what happened to bodies."
"The Putnam County Charter Schools believe that learning shouldn't be about feeding information to students seated in rows and then hoping to collect proof at the end of the year that it worked, but rather about taking the next generation by the hand and leading them to a future full of possibilities," Eric Arena, PCCSS superintendent said. "Our partnership with Albany State University affords our students an opportunity to boost academic skills by learning from Albany State professors. It also exposes students to careers and college majors in science, technology, engineering and mathematics (STEM), as well as liberal and performing arts, while allowing students the experiences of living on a college campus. This bold partnership between the Putnam County Charter School System and Albany State University will help facilitate the opportunity needed for our students to own their education path and success."
The program also benefits parents by improving awareness of the college admission process, financial aid requirements, scholarship opportunities, and other related information necessary to facilitate the students' smooth transition into the college environment.
Overall, the summer camp introduced students to college life and ways to improve their academic and social skills.
"The experience here just makes me feel like this is a safe college to go to," Shelton said.
###
Follow Albany State University on Twitter and Facebook @AlbanyStateUniv.